Chiropractic Care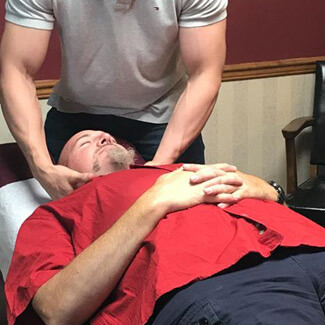 If you've been searching for a natural, noninvasive way to experience pain relief and better health in Niagara Falls, you've come to the right place! Chiropractic can help restore your body's natural ability to heal itself after it's been injured.
What Are Some Benefits?
While chiropractic is highly effective when it comes to pain relief, it provides other benefits:
Boosts the immune system
Aligns the skeletal system
Improves function
Allows athletes to perform more efficiently
Diminishes muscle tension
Alleviates stress and anxiety
Our Techniques and Therapies
At Niagara Family Chiropractic, we have many tools in our toolbox to help patients get relief and get on the path to better health. Your care plan will be customized using the techniques and modalities that we think will be most effective to help you reach your health goals.
Activator®
Cold Laser Therapy
Diversified
Graston
Heat and Ice
Massage Therapy
Sacro Occipital Technique
Spinal Decompression
The New Patient Journey
Every patient's care plan is completely customized to meet their individual needs. If someone comes to the practice in acute pain, for example, we may see that patient 3-4 times a week for 2-4 weeks. Then, the frequency will likely drop down to twice a week for about a month or so to see how a patient is doing. The rate then typically will be reduced to once a month.
EXPLORE THE JOURNEY »
Book a same-day appointment at Niagara Family Chiropractic and start feeling your best!

Chiropractic Care Niagara Falls | (716) 285-0391